Inokim OX Balance Electric Scooter has unique style not seen on any other scooter.  It has Power and Performance to burn & the OX is highly regarded for it's smooth riding with both front and rear suspension.
OX Super comes with single 1000W Motors, 60V, 21AH, 65kph, 50km range, 10" Air Tyres , F Drum, R Hydraulic Disk Brakes, 28KG
INNOVATIVE TECHNOLOGY
A Quality Ride Like No Other
Innovative single swing arm design for awesome looks and easy maintenance
Intuitive cockpit with easy to use thumb throttle
Adjustable board height to suit your riding style and preference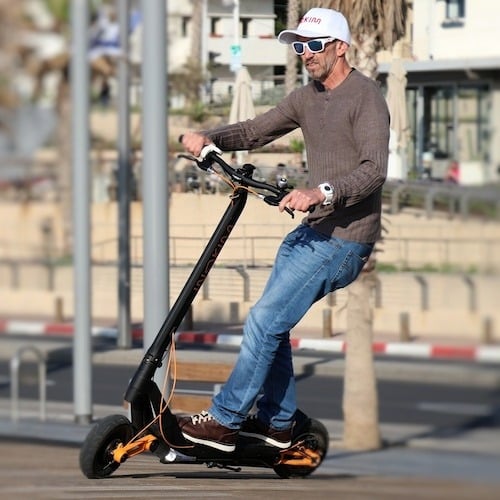 CRAFTED WITH CARE
Superior Build and Ride Quality
Everything from the grips to the advanced suspension to the easy to handle thumb throttle feels like it is meant to be, delivering a smooth and stable ride that inspires confidence. Custom designed parts are working in perfect harmony, making the scooter ultra silent to ride. You can literally feel the attention to detail and quality of the design. The ride quality is superior to everything else we have seen. Stiff at higher speeds and subtle enough to soak up bumps in the road.
Inokim OX Balance Electric Scooter Specifications
Weight
28 kg
Top Speed
65 km/h
Battery
Lithium Ion, 52V, 21 A/h
Transmission
(Rated power) 1000W brushless gearless motor
(Peak power) 1300W brushless gearless motor
Charge Time
7 hrs for full charge
Top Range
(Eco mode) 110 km
(Full speed mode) 60 km
Road Lights
Integral led lights
Brakes
Front drum brake
Rear disc brake
Tires
10 inch pneumatic tires
Max Load
120 kg
Material
Aviation Aluminium-Alloy
LCD Display
With functions & illumination
Waterproof
IPX4
Controller
Sine Wave