Inokim Light 2S is an ultra light scooter that is perfect for everyday commuting, is light and comfortable.  When you buy Inokim you are buying originality & Style.  The Light 2 is like no other scooter on the market.
The Light 2 SUPER has a powerful 350w motor and also:
- Upto 40 km range
- Max Speed of 35kph
- 8.5" Tyres Air filled tires for extra riding comfort
- Front & Rear Drum brakes 
- Max 100Kg Rider Weight
- Foldable Handlebars make it great for public transport & putting in vehicles
- Extremely lightweight & Compact at only 13.6 KG
** This model is ex demonstration, and works perfectly.  Comes with Charger **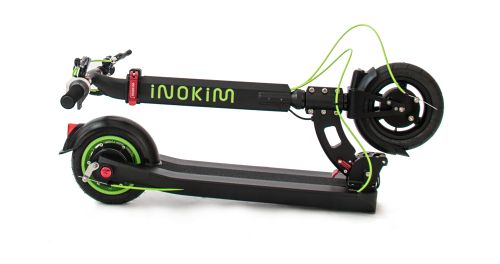 The Light 2 is a lightweight city model by INOKIM, as its name suggests. The scooter aims to ensure safe transport around the city over medium distances. Despite its low weight, this is a fully fledged scooter offering 100 kg load capacity. Its wheels are not sprung. However, the scooter uses 8.5-inch tires with inner tube that help absorbing small vibrations and uneven surfaces. Moreover, these wheels are not prone to getting a flat tire. As one of few scooters in this weight category, it comes with two mechanical brakes contributing to safety and good riding comfort.
The entire scooter radiates experience in design as INOKIM is one of the oldest manufacturers of electric scooters in the world. They built and sold their first electric scooter eleven years ago, which cannot be said of the vast majority of "newcomers" to the market. Weighing 13.7 kg, the Light 2 reaches speeds of up to 35 km/h while maintaining practicality and compactness, which are features many other city scooters can only dream of. Its main advantage are the folding handles.
Use and practicality

This is the second lightest model by INOKIM brand, offering sufficient power for medium trips around the city while maintaining low weight and decent range. In addition to low weight, the scooter's great advantage are the compact dimensions when fully folded, as this model allows easy and quick folding of not just the scooter body but also the handles, including brake levers. The load capacity of 100 kg is sufficient for the majority of users and the scooter's weight is such that it allows briefly lifting the scooter, whether while boarding a bus/train or when putting it inside a car trunk. This scooter is famous around the world for its quality and reliability as it is a model that has been selling for many years and the manufacturer has been gradually perfecting it. We recommend this model for making daily trips around the city shorter than 20 km and to those people who are looking for a practical and reliable scooter that would them serve for many years. In addition to reliability, it is appropriate to also mention that in this weight category it is one of the few lightweight folding models that offer mechanical brakes on both wheels. The majority of manufacturers use only one brake or possibly electric braking in order to reduce the scooter's weight. However, this model relies on standard drum brakes, which is why it brings safer riding and a good feeling that you can brake and come to a stop even in emergency situations. Moreover, the brakes are maintenance-free and fully enclosed, which means no dust or dirt penetration. That is why you do not have to constantly adjust them, as is the case with their competitors – disc brakes.
Safety
Safety comes first when it comes to INOKIM brand. That is why Light 2 is made of an extremely strong aluminum alloy used in the aerospace industry. The entire structure is robust and rigid, so it does not unnecessarily swing sideways but rather maintains stability even at top speed. INOKIM never makes compromises when it comes to safety, which is why the Light 2 model is fitted with two mechanical drum brakes made by Tektro, reflecting its top speed of 35 km/h, and features standard brake levers you typically see on bikes. It is the scooter's rear wheel that is driven, which significantly improves safety in the event of motor failure compared to models that come with a front wheel driven. The majority of small lightweight portable folding scooters designed for use in the city have no mechanical brakes but rather rely on electric brake mounted on the front wheel, or possibly come with an added mechanical brake in the rear wheel. However, roughly 70% of the braking effect is attributable to the front wheel, which is why the efficacy of the rear brake is always significantly lower. Nevertheless, INOKIM steadfastly continues in pursuing maximum safety, which is why the Light 2 model has mechanical brakes both on the front and rear wheel. Therefore, if you are looking for a model that will transport you safely and which allows stopping over the shortest possible distance without unnecessarily endanger the rider or the surroundings, a model that is also lightweight and compact, consider the Light 2.
Lightweight scooters will always require some kind of a compromise. If you desire the comfort of a sprung chassis and, at the same time, you want a decent range and low weight, you simply have to save weight on brakes. If you wish proper brakes, you have to save weight by using unsprung chassis and replace the suspension with air-filled wheels, which is what you have with this model. Thanks to these measures and despite featuring two fully fledged brakes, it weighs just 13.7 kg and offers a reasonably sufficient range and power. The front and rear LED lights contribute to safety. The rear light also serves as a brake light. The less experienced riders have the option to limit their top speed. The scooter also comes with a kick-start feature that prevents any unwanted start up and with the safety lock on its folding mechanism preventing unwanted folding of the scooter while riding.
Design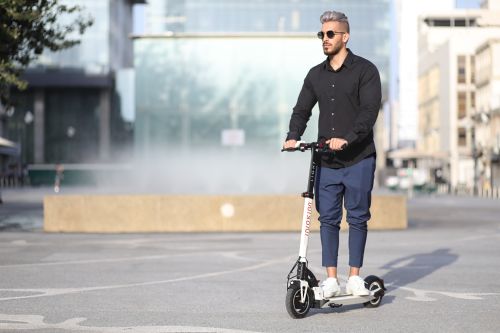 This is an iconic model of the INOKIM brand, which may have been removed from the imaginary design throne by the OX series but despite that remains clearly one of the most beautiful solutions in the category of lightweight city scooters. This is a scooter you are not going to confuse with any other, radiating ease-of-use and practical stylishness. Arriving to a meeting on this scooter is therefore always elegant and suitable for any occasion, be it a meeting in a café, school, office or a luxury restaurant. Moreover, once folded, you can hide it under the first chair or table – it takes up minimum space and looks great even when folded.
Despite having mechanical brakes, the levers are elegant and most of the cabling is hidden inside the scooter's body, not spoiling the looks of this model with a clutter of cables. The height-adjustable, aerodynamically-shaped steering rod hiding the necessary cabling inside looks very elegant. INOKIM offers this model in several color finishes, thanks to which you can match your scooter with your favorite colors. Moreover, INOKIM also offers precisely color-matched locks and helmets, allowing you to ride in style that matches you best.

Power
The motor offers sustained power of 300 W and a short-term peak power of 500 W, which gives you the ability to ride at speeds of up to 35 km/h. For riders weighing no more than 80 kg, this power is sufficient even when riding up the hill. This model's great advantage is a pleasant delivery of power, meaning that the scooter does not make any unnecessary jerking movements and is pleasant to ride both at low and high speeds, contributing to the pleasant feeling of riding safely.



Comfort
Because of the unsprung chassis of the Light 2 model, the shock absorbers were replaced by 8.5-inch, air-filled tires, which are sufficient for riding on all standard roads and sidewalks. These tires are good at dampening small vibrations, although it is only natural that an unsprung chassis like this is not the most comfortable solution existing on the market.
This is definitely not an off-road model, nor a model designed for riding fast on bumpy roads. That is why we recommend slowing down before hitting any potholes, to avoid getting a flat tire. On the other hand, the scooter will reward you with its high reliability, low weight, excellent compactness, maintenance-free operation and high-level safety while riding. The integrated kickstand, as well as the front and rear lights, further contribute to comfort. Considering its intended use, the comfort offered by this scooter is sufficient and it will be surely appreciated by those looking for a lightweight, practical, foldable scooter for medium distances around the city.
Range
Despite its low weight, the scooter does not save on battery, hiding a 36 V, 10.4 Ah battery with total stored energy of 374 Wh. Given the weight of about 13.7 kg, these are good specs providing a range of almost 40 km when riding economically. Even if you ride uneconomically, often accelerating and braking, or ride at near maximum speed, you can still count on a range of more than 20 km. This is twice a standard trip envisaged for this model, which means the range should be enough for everyone. Moreover, to keep the battery in good health, it is better to charge the scooter every night rather than to ride it until the battery dies. With a completely empty battery, the charging time is less than 5 hours.

Our rating
This model is definitely not for everyone. However, it keeps its die-hard fans all around the world. The unsprung chassis discourages some customers, but this is a compromise outweighed by improved safety in the form of two maintenance-free drum brakes made by Tektro while preserving low weight and overall strength of the scooter. Riding this scooter on a normal sidewalk is surprisingly pleasant even where potholes are present. However, with large holes it is only natural that you will notice the scooter's unsprung chassis. If you are not sure whether this is a right model for you, the best thing you can do is to visit us and test ride it for free, experiencing yourself what it feels like riding it. Another great advantage is that this scooter continues to be developed and innovated, thanks to which it is a well-tuned model not suffering from any childhood diseases, on which you can always rely to take you safely and stylishly home. Moreover, this scooter is very nicely designed and, as a bonus, it is available in several unique color finishes.
SMART DESIGN
More than just good looks
Sleek lines, subtle branding, and vibrant colors
quick folding for maximum portability
low sitting deck for stability and comfort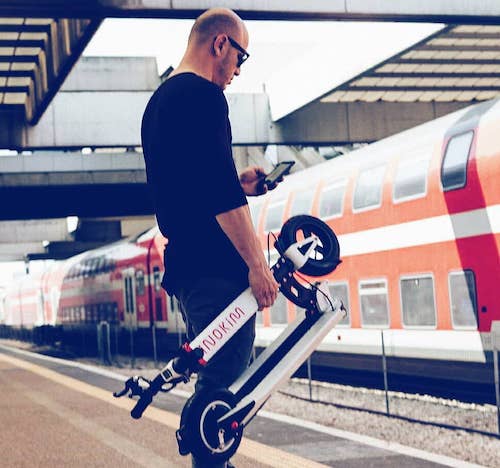 BROAD APPEAL
Enhance your Lifestyle With a Versatile Companion
With only 30 lbs, the INOKIM Light is truly versatile. Use it for your commute, to run errands, or just to ride out for some fun. Fold it up to take on a train or put into your trunk. Wherever life takes you, your INOKIM Light will be your reliable companion.
Inokim Light 2/S Electric Scooter Specification
Weight
13.3-14 kg
Top Speed
35 km/h
Battery
Lithium Ion, 36V, 10.4 A/h
Transmission
36V 350W gearless motor
Charge Time
4-7 hrs for full charge
Top Range
30-45 km
Road Lights
Integral led lights
Brakes
Front and rear drum brakes
Auto motor cut off
Tires
8.5 inch tires
Max Load
100 kg
Material
Aluminium 6061 T6
LCD Display
With functions & illumination
Waterproof
IPX4
Controller
Sine Wave